| | |
| --- | --- |
| | Kerala Wild Life Sanctuaries |
| | |
| --- | --- |
| | Kerala Eco Tourism Projects |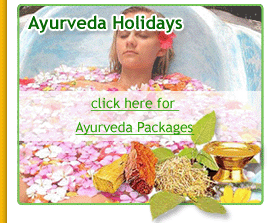 Sandwiched between the Lakshwadeep Sea and the Western Ghats, Kerala is a bustling little green-and-silver, coconuts-and-water state on the west coast of India. It is bounded by Karnataka to the north, Tamil Nadu to the east, and the Arabian Sea to the west. Thiruvananthapuram is its capital.

Every district in Kerala has it's own unique culture and characteristics. Thiruvananthapuram is known for it's beach- Kovalam, the Sri Padmanabhaswamy Temple and various museums and palaces;
Alappuzha for it's backwaters, Thrissur, the cultural capital, Kottayam for it's ancient churches, Kozhikode for it's old world charm and the entrancing Ponmudi or Golden valley. Lovingly called as the 'God's Own Country', Kerala is a tropical paradise far from the tourist trail at the southwestern peninsular tip of India.

With the Arabian sea in the west, the western Ghats towering 500-2700 m in the east and networked by forty four rivers, Kerala enjoys unique geographical features that have made it one of the most sought after tourist destinations in Asia. An equable climate. Lush hill stations and exotic wildlife. Waterfalls. Sprawling plantations and paddy fields. Ayurvedic health holidays. Enchanting art forms. Magical festivals. Historic and cultural monuments. An exotic cuisine... All of which offer you a unique experience.
Among the 10 must see destinations of the world identified by the National geographic magazine "traveler", Kerala is known for its glorious sights and surprising sounds. Mesmerizing greenery, enchanting backwaters, verdant forests, vibrant wildlife, sun-kissed beaches, cascading waterfalls,scintillating valleys with abundant coconut and areca nut palm groves, unending rice fields and mist-capped mountains make Kerala a land of nonstop magic. A land like no other.
Populated with the most advanced society in India, Kerala has a 100% literacy rate. Its physical quality of life index is the highest in the country and the culture of hospitality is well known.

Kerala is uniquely placed as an ideal adventure and eco destination. With Unique Ventures, you can explore the wilderness of the dense forests through trekking, mountain climbing, forest camping and bird watching.
Kerala Basic Facts
| | |
| --- | --- |
| Capital of Kerala | Thiruvananthapuram |
| Language | Malayalam |
| Area | 38,863 sq. km (15,005 square mile) |
| Districts in Kerala | 14, Thiruvanathapuram, Kollam, Pathanamthitta, Alappuzha, Kottayam, Idukki, Ernakulam, Thrissur, Malappuram, Palakkad, Kozhikkode, Kannur, Wayanad, Kasaragod. |
| Sex Ratio (Females per 1000 Males) | 1058 |
| Major Religions | Hinduism, Christianity, Islam |
| Location of Kerala | 8° 18' & 12° 48' north latitude and 74° 52' & 77° 24' east longitude.Kerala is located in the south west corner of India. |
| Rivers of Kerala | 44 - (41 west-flowing and 3 east-flowing) |
| Forest Area | 11,125.59 sq.km |
| Major Agricultural Produce | Spices, Rubber, Coconut, beverages like coffee, tea |
| Official Animal | Elephant |
| Official Bird | Hornbill ( Vezhambal ) |
| Official Flower | The Indian laburnum ( Kanikkonna ) |
| Official Tree | Coconut Palm |
| Tourist Attractions | Natural Beauty, Ayurveda, Backwater cruises, Cultural diversity, Art forms, Snake-boat races etc... |