| | |
| --- | --- |
| | Kerala Wild Life Sanctuaries |
| | |
| --- | --- |
| | Kerala Eco Tourism Projects |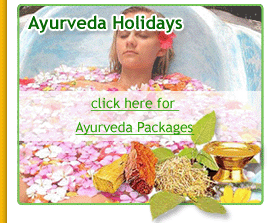 Location :
The district of Thekkady is nearly on the border of with the state of Tamil Nadu, and is well joined by bus to both Kerala and Tamil Nadu. The sanctuary is the main attraction for the visitors staying at the wildlife resorts in Thekkady.

Attractions :
Teekoy is a small village located on the hills of Wagamon along the banks of the Meenachil river. Teekoy also has a waterfall of its own-the Marmala waterfalls which gurgle and cascade down rocks and slopes. A drive upto this little village is bound to be an enchanting experience, with magnificent views all around. Parts of the village are covered by rubber plantations which is also the main occupation of the inmates.

Teekoy is also famous for its trekking routes. Ayyampara is one of the favorite spots of tourists in Teekoy where there is always a pleasant breeze in the evenings. The view from the top of the Illickan mountains nearby is breathtaking, to say the least. On a night with a clear sky, you can even see upto the Aleppey port, 75 km away! It is believed that at the top of the hill, a rare plant called 'Neelakoduveli' grows, which is supposed to possess life-giving properties.
| | |
| --- | --- |
| | Thangalpara is a popular Muslim pilgrimage destination situated on the Thangalpara hill. It is believed that the Mausoleum of Sheik Fariduddin stands here. The unique feature of the three hills here is that they house shrines of the three religions of Kerala-Hindu, Muslim and Christian. |