| | |
| --- | --- |
| | Kerala Wild Life Sanctuaries |
| | |
| --- | --- |
| | Kerala Eco Tourism Projects |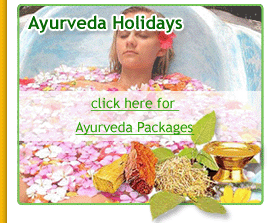 Location :
It is located about 114 km off Kottayam and about 190 km off Kochi and proves to be a dream destination for tourists to India. The total area of the sanctuary is about 777sq. km and is surrounded by an artificial lake spanning a land area of 25 sq. km.

Attractions :
This inspiring parabolic structure is the world's second and Asia's first arch dam. Its 650 feet wide and 550 feet high. As in Ramayana, during their time of exile Rama and Sita stopped near the Periyar River. One day, a kuravan (male tribal) and kurathi (woman tribal) were caught staring at Sita while she was having her bath in the river. In the fit of anger, Rama crushed them and transformed them into huge rocks. The river averted its course and started flowing in between these rocks.Its between these two rocks that the Idukki Dam stands. Close to the Cheruthoni barrage, to its west is the Kulamavu Dam.

Together with the Cheruthoni and Kulamavu dams, the three extend between rocky hills to form the largest reservoir in Kerala. There is a powerhouse on the banks of the Periyar river for power generation. Though the construction of the dam commenced in 1969, the commercial operation of the power station was started in 1976.
| | |
| --- | --- |
| | If you love the fierceness of wildlife, here we have the most popular wildlife sanctuary of Kerala. This sanctuary extends over the Thodupuzha and Udumbanchola taluks of Idukki district, spreading over 77 square kilometres sans is about 450-748 metres above the sea level. The Idukki Reservoir formed by the trinity dams – Cheruthoni, Idukki and Kulamavu extends to 33 square kilometers. There is a lake that surrounds this area on three sides with marvelous shading of evergreen forests, semi-evergreen forests, moist deciduous forest which enhances the charisma of the sanctuary. |
The birds seen include jungle fowl, myna, laughing thrush, black bulbul, peafowl,woodpecker, kingfisher etc. This sanctuary lies adjacent to the world renowned Idukki Arch Dam. There is a boating facility to discover this sanctuary.