| | |
| --- | --- |
| | Kerala Wild Life Sanctuaries |
| | |
| --- | --- |
| | Kerala Eco Tourism Projects |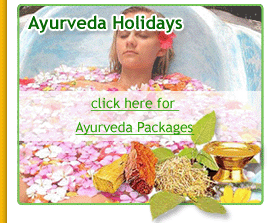 KERALA DISTRICTS & CITIES
Alappuzha
Area : 1,414 Sq Km, Population : 21,05,349, Situated 64 km. south of Kochi

Alappuzha has a large network of canals and is a centre for backwater cruises in Kerala.
Ernakulum
Area: 87.341 sq.kms, Population: 16.6 lakhs , Altitude: Sea level

Ernakulam is the green commercial capital of Kerala with one of the finest natural harbours in the world. From here, ships set sail for foreign ports with pepper, sea food, rubber and coir.
Idukki
Area : 5,019 Sq.Km, Population : 11,28,605, Altitude: 2200 m above sea level

Idukki is one of the most beautiful districts of Kerala in India. High ranges and wooded valleys are girded by three rivers - Periyar, Thalayar and Thodupuzhyar - and their tributaries.
Kannur
Area: 2997 sq. km, Population: 2,251,727, Altitude: Sea level

Kannur is a town of great historical importance and was the capital of the North Kolathiri Rajas for many centuries. It was once a premier port of ancient Kerala.
Kollam
Area : 2579 sq. Kms, Population : 2,398285 (1991 census)

Kollam, the enchanting tourist spot, is an old sea port town on the banks of Ashtamudi lake. Kollam has maintained a commercial reputation from ancient times.
Kottayam
Area : 2,203 Sq.Km, Population : 19,52,901

Kottayam is a prominent commercial centre with palm fringed backwaters on the west and the scenic Western Ghats on the east.
Kozhikode
Area: 2,206 sq. km, Population: 2,613,683 (2001 census), Altitude: Sea level

Calicut is a port for the whole Indian sea. It was the capital of the powerful Zamorins.
Malappuram
Area: 3550 sq. km, Population: 3,096,000, Altitude: Lowlands: Sea level

Malappuram is situated 50 km south east of Kozhikode.With Nilgiris in the east and the Arabian sea in the west, Malappuram district presents a treat to the eye.
Palakkad
Area: 4480 sq. km, Population: 2,382,235, Altitude: Above sea level

Palakkad is prime among Kerala's most picturesque districts. Palakkad is rightfully therefore known as the Gateway of Kerala.
Pathanamthitta
Area: 2731 sq. km, Population: 12,31,577, Altitude: 500 - 1000 mt. above sea level

Situated near the western ghats and bordered by the hills, Pathanamthitta district is a treat to eyes with its vast unending stretches of forests, rivers and rural landscapes.
Thiruvananthapuram
Area : 2,197 Sq Km, Population : 32,34,707, Altitude: Sea level

Thiruvananthapuram (known as Trivendrum) the capital of Kerala. Located at the South West-ern tip of India, is bounded by the Arabian sea on the West and Tamil Nadu on the East.
Thrissur
Area: 3032 sq km, Population: 2,733,311, Altitude: Sea level

A cultural center, the Kerala Kalamandalam, the Kerala Sahitya Academy and Kerala Sangeetha Nadaka Academy are located here.
Wayanad
Area: 2132 sq. km., Population:671,195 (2001 census), Altitude: 700 - 2100 m above sea level

Wayanad - the green paradise - the border world of greener part of Kerala.