| | |
| --- | --- |
| | Kerala Wild Life Sanctuaries |
| | |
| --- | --- |
| | Kerala Eco Tourism Projects |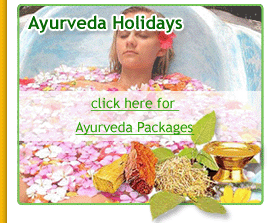 | | |
| --- | --- |
| | Location : Shore of Vembanadu Lake, Kumarakom |

Coconut Lagoon is our attempt to capture the essence of the Kerala experience and then offer it in a unique setting. Nothing has been added that does not already belong. And if the comforts of life enter (as they must), they do so in a way that leaves the harmony around them undisturbed. We like to believe that this is the reason why Condé Nast Traveller rated Coconut Lagoon among the 25 best getaways in the world. Do you have a moment? Then come with us. Lie in a hammock on this lakeshore, and allow your senses to possess you.


Before you is the great Vembanad lake, rippling under the vault of an impossibly large sky.

Sunlight sparkles on her waters, tearing the reflection of a passing houseboat into crystal shards. Darter birds go about their fishy business. Your nostrils fill with scent- laden ozone.
Facilities
| | |
| --- | --- |
| The reception area too, like the homes we mentioned earlier, is a living piece of Kerala history. It dates from 1860, the four-cornered open courtyard design an echo of times past. The entire mansion was painstakingly transplanted from the nearby village of Vaikom in 1993. Relax on the wooden swing before you check in, or wander about, sipping on a fresh coconut and soaking in the atmosphere. You can choose from three kinds of accommodation at Coconut lagoon. | |
Tariff
Coconut Lagoon(AP)

INR

High Season

Peak Season

Bed & Breakfast

Single

Double

Single

Double

Bungalow

10000

12000

11100

13100

Mansion

10800

12800

11800

13800

Pool Villa

19250

19250

22275

22275