| | |
| --- | --- |
| | Kerala Wild Life Sanctuaries |
| | |
| --- | --- |
| | Kerala Eco Tourism Projects |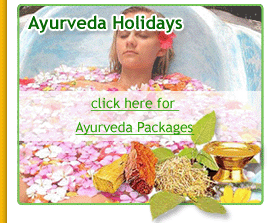 | | |
| --- | --- |
| | Kerala, truly, deserves a place on the world map of heritage sites. Palace, aesthetically set on a tranquil island, was born out of this sheer concern to bring alive the subdues charm of quintessential Kerala of the 18th and 19th century. The then art, culture, tradition,architecture, lifestyle are all being reinvented in Kerala Palace with an attention to the minutest do tails that will bring to the contemporary world the authentic Kerala of some 250 years back. |
From architectural marvels built on the strict rules of Vaasthuvidya (ancient architectural science of Kerala) to therapeutic Ayurveda, from coastal delicacies to hi-range spices, from myriad hues of art forms to picturesque destinations, Kerala has carved a niche for itself among the wanderlusts. Kerala Palace brings Kerala under one roof. On offer to the discerning explorer would be the legendary hospitality provided by Kerala's erstwhile royalty to their cherished guests.

Flavours of the spice coast.
The unusual cuisine of Kerala brings to the fore the culinary expertise of the people of Kerala. Producing some of the tastiest foods on earth, the people of Kerala are gourmets with a difference not only in their cuisine but also in the way they are prepared. The cuisine is hot and spicy and offers several gastronomic opportunities. One fine example being Panankanji, prepared from processed trunk of palm trees.
| | |
| --- | --- |
| | The food is generally fresh, aromatic and flavoured. The land and the food are rich with coconut, though one can't imagine Kerala food without chillies, curry leaf, mustard seed, tamarind and asafoetida. Kerala cuisine is marvelous, simple yet palate tickling and at Kerala Palace, one can not only taste such forgotten recipes but can also watch them being prepared by specialists. |
Tariff
ROOM TYPE

RATE [INR]

TAXES

From 01 OCT - 22 DEC 2008 &
06 JAN 2009 - 31 MARCH 2009

23 DECEMBER 2008- 05 JANUARY 2009

PALACE ROOMS

8500

10000

13000

15%

YUVRAJ SUITE

10000

12000

15000

15%

MAHARAJ SUITE

12500

15000

18000

15%

EXTRA PERSON

1500

1500

3000

NIL

EXTRA CHILD
(5-12 YEARS)

1000

1000

2000

NIL