| | |
| --- | --- |
| | Kerala Wild Life Sanctuaries |
| | |
| --- | --- |
| | Kerala Eco Tourism Projects |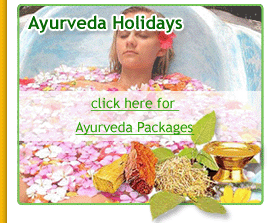 HOME STAY IN MUNNAR
AMBAT HOME STAY
| | |
| --- | --- |
| It is a colonial style bungalow which is located very close to the Munnar town. The big plus of your stay here will be the spectacular views of the Munnar Town and tea plantations. The place will feel like your home during your stay and to top it all, it comes within your budget | |
MUNNAR RETREAT
| | |
| --- | --- |
| | Munnar Retreat is situated right at the Chithirapuram junction. The bungalow is situated in sylvan surrounding in a secluded and serene spot commanding excellent natural and scenic view. On one side, one can see the Lakshmi Mountain and on the other side, a deep valley terminating at Chenkulam reservoir. The atmosphere is quite cool and misty throughout the year. The climate is not extreme but very pleasant any time of the year. Moreover, the Retreat is located in the midst of Pallivasal Tea Estate, in rolling terrain with panoramic view. |
ARANYAKA HOME STAY
Surrounded by the mesmeric beauty of meditative mountains, brilliant skies, whispering winds & Tea Gardens, Aranyaka Homestay, Near Tata Tea Gardens Munnar is a place to unwind & rejuvenate. Nestled in a scenic mountain location overlooking beautiful hills and valleys, the Aranyaka Home stay offers a tranquil and inspiring setting for retreat vacations, walks in nature, and charming views of the surrounding mountains. Aranyaka offers spacious accommodation that is part art, part imposing architecture.

With large windows and French doors that open on to private balconies and a unique design affording privacy but always focusing guests into an open view. Aranyaka brings about a rare intimacy between "inside" and "outside".
JOHN'S HOME STAY
Johns' Home Stay is an abode, named after the three generations of Johns who have called Munnar their home for about a hundred years.
Johns' Home Stay is located in Munnar Town, half a kilometer from the Munnar Bus Station and is situated close to the old Munnar Supply Association. There is a small lake at the back of this home stay. The rooms are homely, spacious and well furnished.
THE SHADE HOME STAY
Relax with a family in their eco friendly and heritage form while you travel in Kerala.some come here to learn more about Hinduism and the culture of Kerala. Others are looking for a relaxing holyday, wile scholars find it a place to write in a peaceful and serene atmosphere. And some have participated in community services such as teaching and environmental awareness. So this is a deferent place for people who are looking for a difference!

We offer Kerala vegetarian cuisine and no liquor is allowed inside the house.
We are very flexible about the visitors activity program, it depends entirely on the visitors interest and needs

We are situated 13kms from munnar, the famous hill station of Kerala. we are just 95kms of Kochi international airport. we are 120kms away from Kochi city which is four hours drive. Nearest railway station is at Alwai 100kms. regular bus service through the village are also helpful for adventures travelers.
HOME STAY IN WAYANAD
GLENORA HOME STAY

HILIYA RESORT

ENTE VEEDU HOME STAY
DREAM HOUSE HOME STAY
GLENORA HOME STAY
Approved Home stay Providers & Farm tourism center. Beautiful Merging of greenery and mist. Surrounded by different kind of Birds including Peacock.
Enjoy homely stay & traditional Kerala Veg/Non veg Food. Take a plantation walk through Coffee, Pepper, Arecanut and Vanilla garden – Participating in normal farming activity is also provided for those who interested. Trekking – Sight seeing – Ayurvedic Massage- etc Can be provided as per request
HILIYA RESORT
| | |
| --- | --- |
| | Hiliya Resort is situated at Kenichira, in Wayanad District of Kerala, INDIA. Being at the centre of Wayanad, it is easily accessable from nearby airports and railway stations. 12 Km from Meenangadi Junction on NH 212 , between Kalpetta and Sultan Battery on Calicut- Mysore road Whatever is the nature of your trip, be it study or research, relaxation or just sight-seeing, we at the Hiliya Resort are able to provide you an enjoyable stay in nature's own garden and a Kerala life style. From here you can proceed to any part of this state and experience the varied culture of a vibrant community, and then return at your leisure to rest and relax and to start all over again. Take your pick. We at Hiliya Resort are waiting. |
ENTE VEEDU HOME STAY
"Ente veedu" the Malayalam for "my house" is situated in an exotic locale in Wayanad one of the hill stations in Kerala. World renowned for its coffee and tea plantations and spices, Wayanad has become one of the favourite hubs for tourists.
Surrounded by coffee and pepper plantations and paddy fields, "Ente Veedu" really transcends you to an ethereal world. An ecstatic and holistic experience from the rush and shrieks of routine. Located in a 80 year old estate, "my own home" Ente Veedu combines the legacy of Wayanad farming culture. It was Mrs. Seetha's dream to be in the mainstay of tourism and related activities.
Well supported by her husband Mr. Raju , her dream was realized in the year 2005, when they set up "Ente Veedu" for tourists who are really interested in exploring nature. Ente Veedu gives you a first hand experience of Malabar cuisine and hospitality.
DREAM HOUSE HOME STAY
Dream House Homestay is a perfect family getaway in Wayanad. Wayanad offers easy access from the neighboring state of Karnataka and is home to hills, waterfalls, streams, wildlife, sanctuaries and mysterious caves.
The homestay with its hospitable service and privacy has a lot of guests who revisits. It is approved by District Tourism Promotion Council, Wayanad.
Dream House includes more facilities than the usual homestay –a swimming pool and a conference hall being some of them. It also offers a wider array of accommodation like standard rooms , tribal huts and tree house